Everything that hipsters touch turns to trends, and haircuts are no exception. These guys always know how to look presentable and effortless at the same time. So why don't follow them? The cuts and styles you are going to see are the best guides.
When a modern man wants his casual style to be hip, a hipster haircut comes in. The formation of the hipster subculture strings on the epochs of jazz, rockabilly, bebop, and, eventually, indie music. Such a diverse composition has brought many attractive and uncommon fashion attributes that are considered trends nowadays, and haircuts are probably the most prominent ones.
Hipster looks aren't something totally new, yet, they're no doubts very trendy and popular due to the chic and sophisticated ideas. Today you are going to see the hottest hipster cuts and styles that gentlemen of now love to pull off. Fancy mustache, sleek tops, mighty beards are here to help you keep up with trends!
1. Bald Head + Beard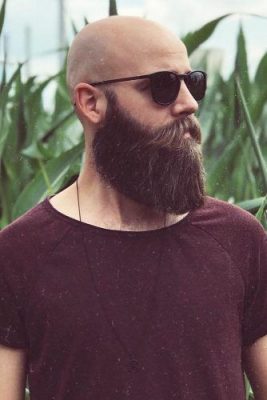 Source: dave.vendetta via Instagram
There are many types of beards: Balbo, goatee, circle, royale etc. And since the community of hipsters gives life to lots of new trends, it's created a hipster beard. Everything is pretty simple: a cleanly shaved head and a huge beard rolled into one.
There are many types of beards: Balbo, goatee, circle, royale etc. And since the community of hipsters gives life to lots of new trends, it's created a hipster beard. Everything is pretty simple: a cleanly shaved head and a huge beard rolled into one. But the visual impact brought by this simplicity drives modern mods crazy.
2. Spiked HairSource: z_ramsey via Instagram
Wondering what makes the idea of spiky hair be hipster hair? Well, as you might have noticed, these guys know how to find the happy medium between immaculacy and audacity in their styles. This idea features a pretty massive and eye-catching top. But the evenly done fade and well-groomed stubble make the look very sophisticated and versatile.
3. Wavy Top And Faded Sides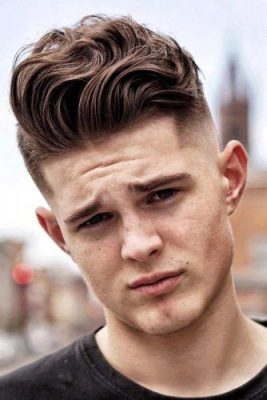 Source: z_ramsey via Instagram
Textured hair has always been a calling card of any hipster look, whether it's a vintage rockabilly cut or a smart and minimalist undercut. The point is to keep the look precise and detailed, as beauty is in the details, remember? This high fade haircut enhances the pleasant movement on top, giving the wearer a defined style.
4. Messy Hair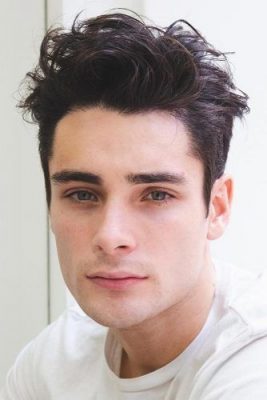 Source: joeltorresstyle via Instagram
Nothing gives a more effortless and carefree look than messily styled textured hair. Guys who love rocking unpretentious daily hairstyles usually opt for such ideas. A bit of styling product throughout your hair is enough to achieve a classy style that will nicely fit all casual occasions.
5. Undercut With Pompadour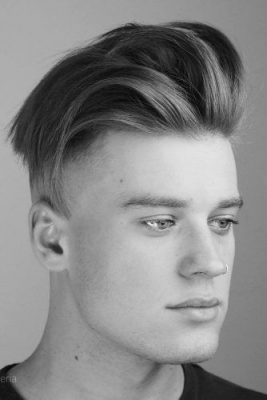 Source: ambarberia via Instagram
Undercut haircut is one of the few cuts that can work for men of any age and with any hair type and face shape. As for this hipster cut, it's meant for gents who want to stand out in the crowd. A voluminous high top that flows backward gives a very bold and elegant look at the same time.
Source: sidsottungacademy via Instagram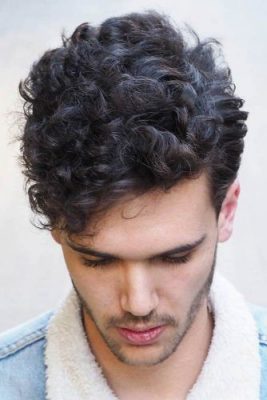 Just like the classic hipster style that was popular in the 1920s, this modern haircut features a distinctive, textured top. Yet, this time it has less drama in order adapt to a nowadays' image. If you have curly hair, this idea will come in handy: the voluminous top and softly shaved sides create a perfect balance.
7. Side Part + Beard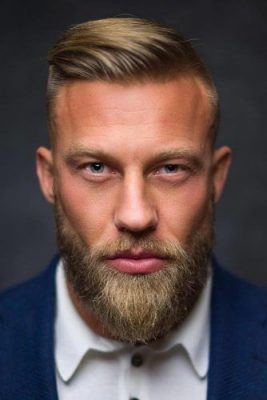 Source: stiking1 via Instagram
Masculine and exquisite: this is how you can look once you combine side parted hair with a full beard. The best thing about this sharp idea is that it can serve as a decent finish to both casual and official outfits. Those seeking versatility, comfort, and masculinity in style should look no further.
8. Subtle Mohawk
Source: mattyconrad via Instagram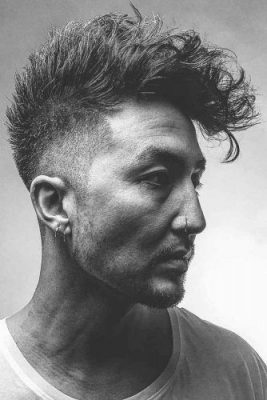 While the classic Mohawk haircut has nothing to do with versatility, its hipster version makes it suitable for most lifestyles. Instead of the contrast between shaved sides and big spiky top, this idea offers a smooth blend between a voluminous top and accurately tapered sides.
9. Medium Undercut + French Moustache
Source: stefanotratto via Instagram
If you aim to create a truly one of a kind look, don't forget to consider mustache styles that are popular today. For example, this clean, medium undercut gets more original with the French mustache accompanying it. Little details can help you add more individuality to your style.
10. Side-Swept Haircut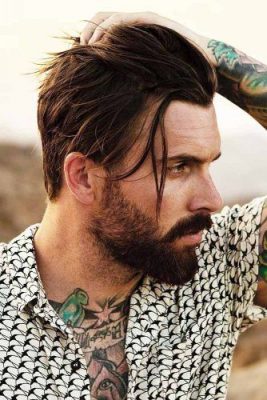 Source: levistocke via Instagram
This is probably the most popular hipster haircut men from all over the world love to flaunt with. Long textured hair is swept to the side and finished with a manful beard, sounds more like classic, huh? The truth is, this idea can adapt to any image while allowing a wearer to customize it.
11. Faux Hawk
Source: andrewdoeshair via Instagram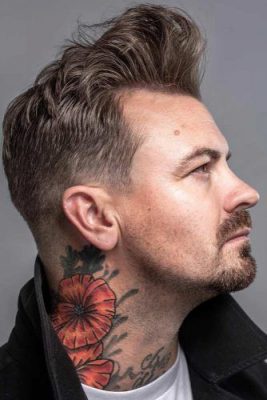 The Faux hawk haircut is nothing but a muted version of the Mohawk that still brings a lot of virile vibes. Guys who want to set the focus to the volume on top, rocking a retro-inspired hairstyle will love this idea: just make sure that your hair is thick enough to keep up with the shape.
Source: dexterdapper via Instagram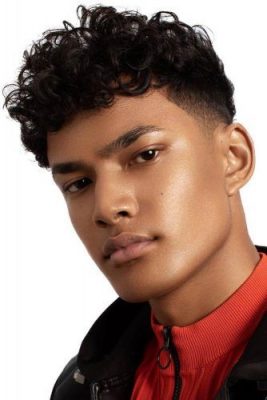 There are so many stylish ways to tame curly hair men find to be super unmanageable. And this curly idea is no exception! To achieve the look, ask your barber for a mid taper on the sides and for a bowl cut on the top. In this way, your curls will lie evenly on one another, giving you a room for styling freedom.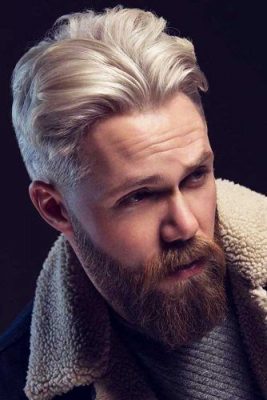 Source: dexterdapper via Instagram
The idea of blonde hair men tend to stay away from is not always as drastic as many guys think. A grayish platinum shade is one of the most-requested color ideas among trendy gentlemen, and, according to this pic, it goes pretty harmonic with a natural beard. It's crucial to pick a blonde hue that matches not only your complexion but also your base. Otherwise, the contrast won't be a success.
14. Slicked Back Hair + Beard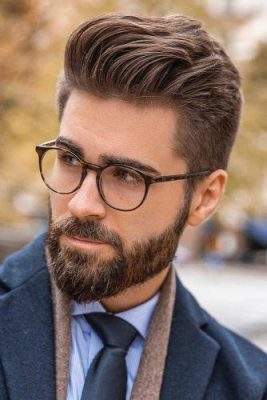 Source: jakobkonnbjer via Instagram
Having a longer top is always a good idea as you can play around with parting and comb it in any way you like. When some special meeting or official even is just around the corner, you can simply get slicked back hair which, by the way, nicely complements business looks.
15. Slicked Back Mid-Length Mane + Short Beard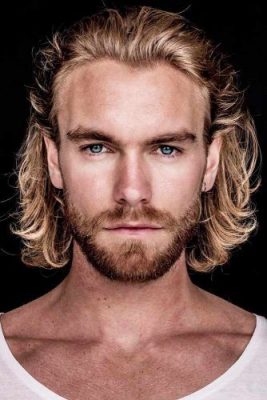 Source: nielshorvath via Instagram
Here comes a low-maintenance and easy-to-get hipster haircut for guys who are looking for stylish comfort. It just so happens that girls love those grown-out manes. And since keeping up with mens long hair is a commitment, you can go for medium length that also has many styling options. To make your look complete, don't forget to let your facial hair grow out too, forming a short, accentuating beard.
A hipster haircut, whatever it is, is something that has always been around and will never become outdated. The thing that makes many men go for such ideas is the sense of balance and masculinity showcased by the looks. You've just seen the most desired and sought-after cuts and styles. Try stealing one of them and make your image complete!