Many people who are not patient enough to wait for longer have come to the hair salon to improve the length and hairstyle they like. However, how to make a wig look natural, smooth, and durable? Follow these tips from Hairsystem to wear and take good care of your hair wig.
Buy Good Quality Wig
How to make a full wig look natural? Be careful to choose a hair supplier, let's shop at a reputable hair store instead of a costume store. The hair market is developing so there are more and more shops that supply wigs but not all of them can ensure the quality of wigs.
You can easily find a hair vendor in many big websites such as Amazon, Hairsystem, and so on. But you should check the reviews before deciding to order a wig. Pre-buyers will give you helpful advice. Beauty stores that sell human hair wigs will be the best place that offers good hair products at friendly prices.
Choose A Natural Wig That Fit Perfectly
Opt for a suitable wig is very important. If your wig is too tight, it can harm your natural hair, scalp and cause your headaches as well. On the contrary, if the wig is ill-fitting, it is not in place when you wear it. It is really uncomfortable and looks unnatural.
So how to wear a wig and make it look natural? Please measure your head size so that you can choose a perfect wig. You can buy a small, medium or large size wig depending on your measurements.
Moreover, you have to choose the wig style (straight, curly, wavy, long or short hair) that suits you best. You know the choice of wig can match your age and personality. If you are an active girl, you tend to choose short hair in a deep wavy and curly texture since it reflects the wild temperament. You can try short straight wigs and Bob wigs to make a short wig look natural.
Get A Hair Trim
Once you purchase a wig, you can cut it if you are smart in styling wigs. If not, take the wig to your hairstylist and they will cut and style the wig for you. He/she can trim the hair wig to suit your face shape.
How to cut a wig to make it look natural? You can ask your hairstylist to use a razor to cut in some layers. Remember that the wig should be on your head when cutting so that he/she know what hairstyle suits you best.
Have your hair system trimmed will give you a unique and customized look that frames your face perfectly. In addition, it can make your hairstyle appear more realistic.
Add Makeup Powder To Make Wig Look Natural
Many wearers are afraid that their hair wig can't blend well with their natural hair. How to make a synthetic wig look natural? How to make a human hair wig look natural? We have received many questions like that.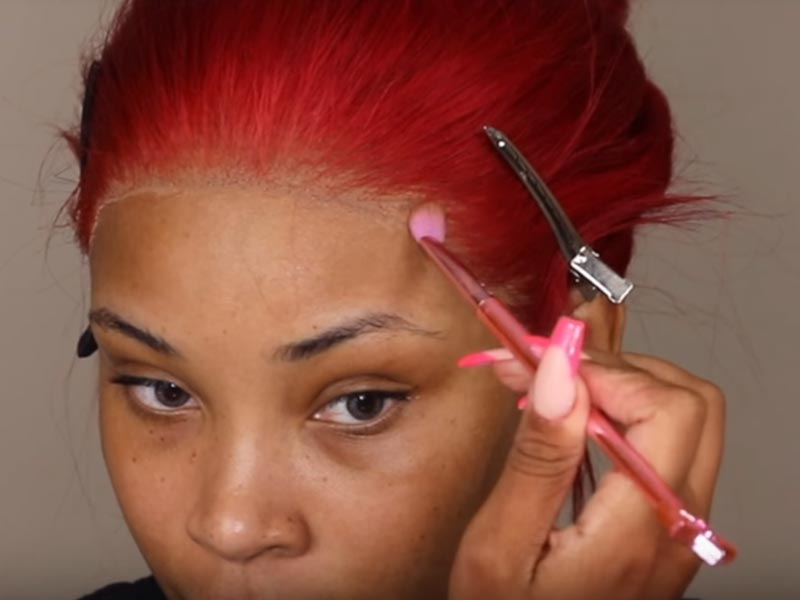 Using powder on the wig parting is a way to make a wig look natural. Sometimes you make the wig a bit more realistic, to look like your scalp, you can use it. You should use translucent powder or something that is like your skin tone.
How to add the powder to your wig?
Get your angle brush and dip it into some of the powder. Next, put your hand in one side of the wig to just hold it down, hold it taut. And then you get your powder and apply it. You can finish when you see it is enough, it looks like your scalp. Your wig will look more like your bio hair than being flat to your head.
Replace the wig regularly
Don't lose your confidence with only one wig for many years. You can feel bored with a hairstyle. The best way to stand out in the crowd is to change your style and appearance with wigs. So what should you do to make a full cap wig look natural?
Please plan to replace your wig regularly. If your hair wig is made of synthetic fibers, replace it every 3-6 months. And with a full lace wig, you should replace it every 6-12 months depending on how you maintain it.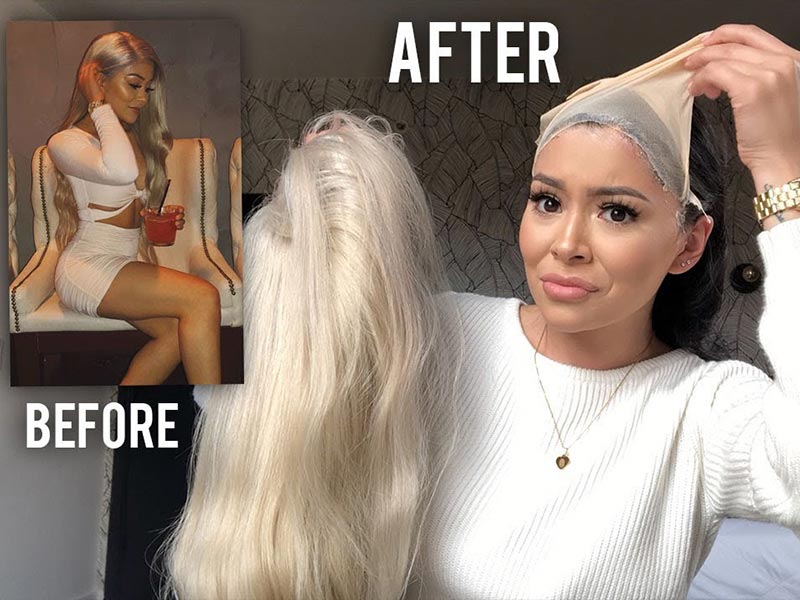 We highly recommend using human hair wigs as it looks more natural and is durable than synthetic hair wigs (non lace front wigs). Like its name, human hair wigs are made of 100% raw hair, chemically untreated. Moreover, the texture of this wig is soft and the color is natural.
Blend The Wig Out
How to make a full wig look natural if it is made of raw hair?
Color the hair wig to make it look natural
It is super important to dye the wig that blends your personal style and your natural hair color. Refer to the hairstylist's advice to color your wig.
You might feel interested in:
Spritz volumizing spray to prevent flatness
Style a human hair wig with volumizing spray at the roots of the hair. Use your fingers to work through the hair system.
Cut the hair to make it look natural
Choose a haircut that blends well with your existing hair. You can cut the hair by yourself or take it to a hairstylist who is experienced and trained with cutting hairpieces. Tell him/her what hairstyles you like.
Use hot tools
Now you place the wig on your head and divide it into sections with hair clips. Because the wig is made of 100% real human hair, it can be curled, straightened or blow-dry with hot tools. To make a full lace wig look natural, you can style it whatever hairstyle you would like. If you want to keep the hair texture for a long time, spray the hair wig with hairspray before wearing it.
How to make a wig look natural by caring
Make sure that you take care of your wig properly to keep it stay healthy and extend its life. Please follow manufacturer instructions to keep your hair system look natural as long as possible.
You know the hair system can be dry, and even damaged leading to an unnatural look if you don't maintain it. Use shampoos and conditioners that are specially designed for the wigs. When washing, don't rub the hair because it can cause tangling problems.
You question how to make a curly wig look natural. Our answer is that you should use combs or brushes that are created for this wig. Or you can use your fingers anđ run through the hair to gently detangle.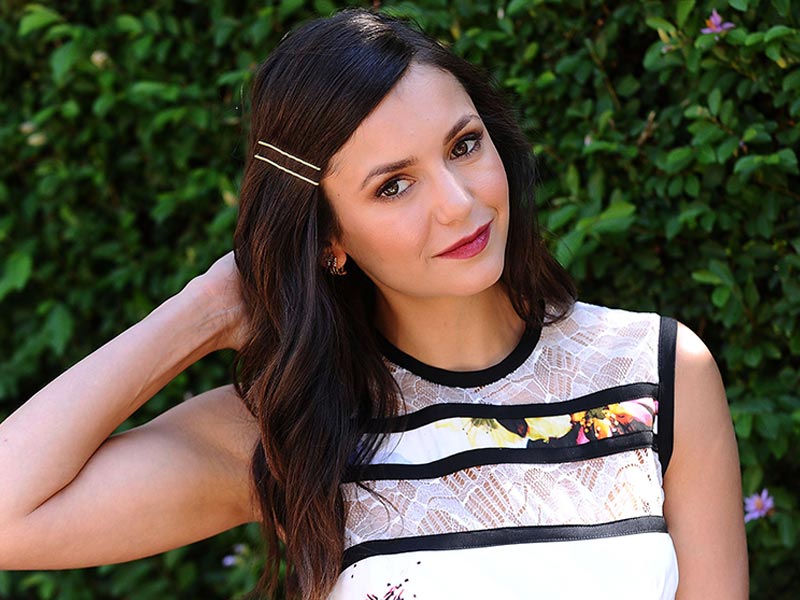 Wear Accessories To Make Wig Natural
Any other tips on how to make a wig look natural? Like your existing hair, you can use accessories to your wig. Wearing a scarf or headband is a great ideal. Moreover, placing accessories that can keep your wig securely in place on your head.
You are free to style and accessorize your wig as you desired once it is applied. Braid, curl or accessorize your hair and use some beautiful hair clips and ties to secure it. Regardless of the type of your wig, let's try this tip to make your expensive or cheap wig look natural.
Select The Hair Wisely
The type of wigs can make differences in how a wig look natural in front. There is a big collection of hair wig now with a variety of types such as full lace wig, lace front wig, synthetic wigs, etc.
We think that choose wisely is the best way on how to make a quick weave wig look natural. For example, a lace front wig can create and give you an invisible hairline. You can feel free to wear the wig because it does not show the base of the wig.
When purchasing for a non lace wig, look closely at the construction to make a non lace wig or front wig look natural. This will make you feel differences.
Our Conclusion
Follow these tips on how to make a wig look natural, you will receive the best result. Please treat the wig like your real hair. Love the hair, care it properly to keep it beautiful and last as long as possible.
And you can drop us via hotline (+84) 979 160 986  (WhatsApp/ Mobile) or email admin@hairsystem.net . We are always more than happy to support you at any time and offer you the best service.