Here are the 8 different type of fade haircut for men
High Fade Haircut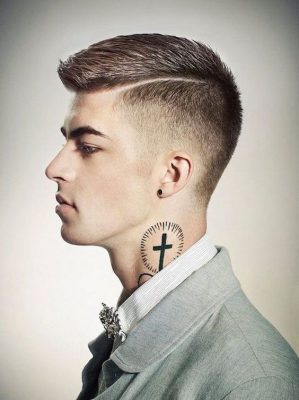 A high fade haircut is basically creating a well noticeable contrast between the top and the sides with the help of the tapering process.
It creates the difference between the long and thick hair on the top and the short sides. It gives a sharper look because the cut begins at a bit higher from the midpoint.
People usually tend to keep their top hair short in this particular style as your hairstyle will be more in focus.
The high fade haircut is suitable for guys with round faces or wide cheeks where hair at the sides would add more width.
Types of High Fade haircut
Quiff + High Skin Fade
This trending haircut highlights the thick hair styled into textured hair on top and a quiff at the forehead with a high bald fade nearing the skin.
Messy Sweep Back
The messy sweep back is the most fashionable way to wear a slicked-back hair. With perfect combination and volume of slick hair has just the right amount of messiness leaving behind a perfect style statement.
Modern Pompadour
The modern pompadour looks great with a high fade haircut. An easy styling option, use fingers to style with a matte product.
Low Fade Haircut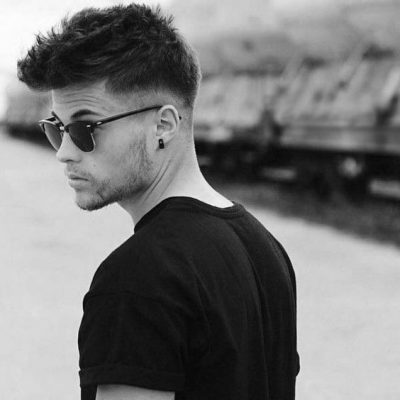 Unlike the high fade, a low fade haircut is completely the opposite of it. In this, the initial cut is marked just above the neckline and the ears. This haircut doesn't show any contrast, in this, the sides are more textured.
If you are fond of long or medium length hairstyles then low fade haircut is for you as longer hair requires thicker outlook.
This haircut along with various types of fades are the most popular hair.
This hairstyle works best with a beard, just ask your barber to fade your beard according to your hairstyle and this will give you a sparkling finish.
A low fade is mostly preferred by the office person and to them who loves traditional haircuts. This type of fade haircut is known to be classy hairstyle.
Types of Low Fade Haircut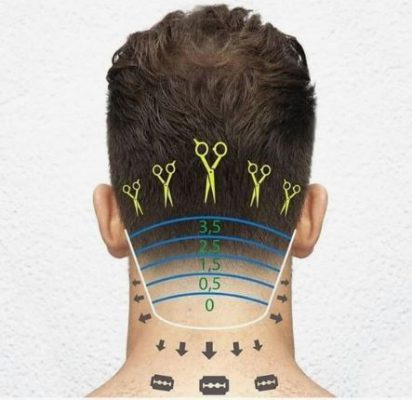 Low fade blowout
Try a low fade haircut which makes for an incredibly cool hairstyle option in every setting.
Men with a broad or round face, this elongating hairstyle slims the appearance of your face. Short on the sides, men with long hair can have a big burst on top.
Low fade with slicked back
This is one of the types of fades that looks great with both short and medium lengths of hair on top.
If you have a medium length, you should consider a slicked-back hairstyle to have a complete and clean look.
With a subtle beard to your look can help balance out the longer length on top.
Low fade Comb/under cut
Low fade is a versatile haircut, From comb cut or undercuts, you can sport the low fade with any short or medium hairstyle. The undercut is a unique and modern look.
To nail the style, separate your hair into three sections with the longest part on top, the undercut or comb cut hair below the crown and the fade around the temples and ears.
Mid Fade Hairstyle
In this haircut the taper cut starts at the midpoint of your head, your barber will start trimming from the halfway of your neck and sides.
If you are not comfortable with high or low fade haircut then you must try medium fade hairstyle as it will give you all kinds of variations.
If you are a person who likes to change hairstyle frequently, this fade style will be best suited for you.
Types of Mid fade haircut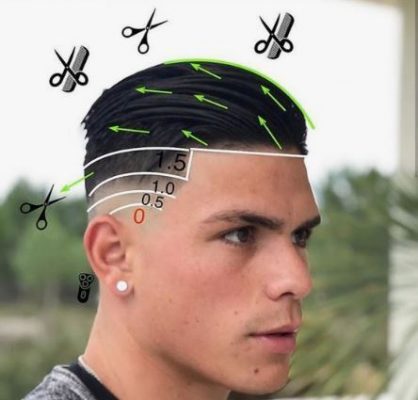 Mid taper fade
The mid taper fade haircut is one of the most classic, clean styles for men. This haircut looks best on both casual and formal events.
This haircut avoids too much hair on the sides or expose the scalp, cuts, and marks in any case.
Men's medium fade
The men's medium fade haircut is the right choice for you with a bald medium fade with a shape suitable for your hair length.
For a men's medium fade, the short to medium-length hair on top is brushed over to one side to create the perfect comb-over haircut.
Mid bald fade
Your sides are shaved all the way down to the skin in the mid-bald fade. The bald fade is a high-contrast, edgy haircut that looks good with long or medium hair.
Men can experiment a bald fade with a high and tight fade, buzz cut or French crop, Longer hair can be styled as a quiff, comb-over, slick back, or spiked look.
Skin Fade hairstyle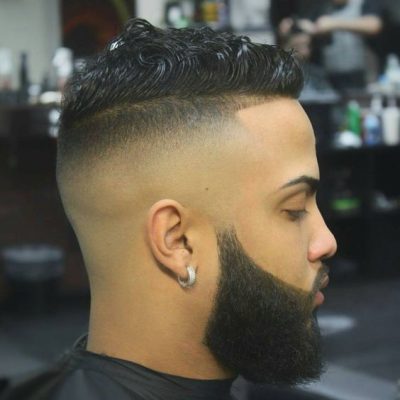 When the barbers were pushing the fade haircut styles to its limits, then they created skin fade haircut.
Zero fade, bald fade are some synonyms of this haircut. In this, a trimmer without any cap on it is used to trim from the roots of your hair.
Undercut Fade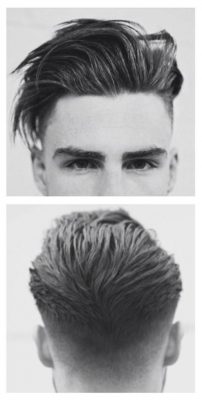 This style has been trending over the last 5-6 years. An undercut is more like fade as it also involves short hair on the sides and on the head.
This style is a combination of two styles. This style is very popular among college students because it's stylish, easy to wear and very unique.
Forlooking best in this hairstyle, you should grow and maintain a beard,it will enhance your looks
Scissor Fade haircut
Usually, your barber fades your hair with a trimmer machine, but if you don't want a shaved fade then you can go for a scissor fade.
Scissor fade, as the name suggest is done with the help of a scissor. The length of the hair from the sides remains long but still, give the illusion of a tapered fade effect.
This hairstyle gives a very good texture to your hair.
Pompadour Fade haircut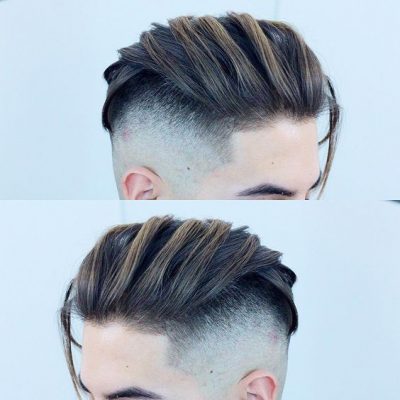 This pompadour hairstyle has been in the market since the early 50's and also known to be the classic men's hairstyle.
The barbers, while experimenting by combining pompadour with a fade creates pompadour fade hairstyle. The fade has made this popular style Morden.
The formal style looks best in a pompadour with the help of wet look hair products on the market.
Fauxhawk Fade haircut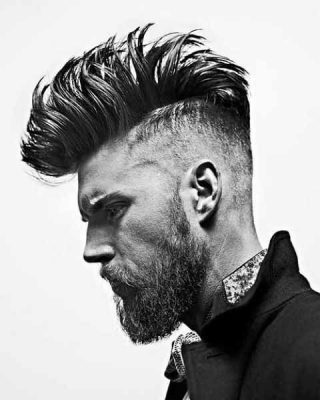 This hairstyle is pretty unique and daring in itself. It is an evolved version of Mohawks style, which I am sure that everyone had tried in their teenage.
Fauxhawk fade is the style which will make you feel cool and at the same time stylish.
Growing the top hair short and fading the sides and the neck is the first step, after this use dry products like clay to give it a texture of fauxhawk style.
How to Get A Fade Haircut
The first step to get a fade haircut is to decide from where you want to start the fade- low, medium or high.
After deciding the fade, the next step is to decide the length of your sides which means how short you want your sides to be.
In the end, you have to choose the hairstyle for the top hair. Considering all these factors, ask your barber to cut according to it and he will deliver much-precise work.
His accuracy will be mostly dependent on how accurately you tell him.