Hair piece toupee has become an indispensable part of bald men thanks to its convenience in covering their thinning scalp. It's easy to use, but wearers still need to be meticulous when applying or removing it. This blog post from Hairsystem is dedicated to how to remove a toupee at home.
Removing a hair system sounds to be easy. However, in fact, your toupee hair piece could be torn apart easily if you remove it roughly. Let's check out what you should do to safely get your hairpiece out of your head.
What's The Best Hair Piece Toupee For Your Hair?
Nowadays, millions of people suffer from hair loss problems, regardless of the middle-aged or the young. While some choose to live with it, many want to find a useful solution that can address their problem.
Toupee is more affordable than hair transplantation
In some cases, people choose hair transplantation as a savior of their hair. However, the transplanted process takes a long time and can cause pain a few days after surgery. Additionally, its price is high, so expensive.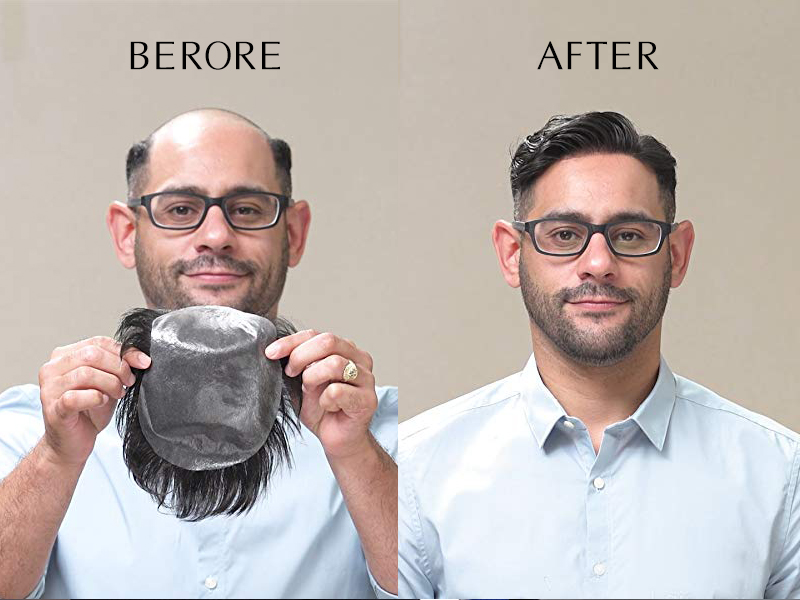 If you can't afford it, investing a wig is the best decision. A wig toupee is a type of hair wig for men. People also call it a hair system or a rug. It has both real human hair or synthetic fibers to cover your thinning hair or baldness areas and offer a more natural look. A toupee is a popular choice as its beauty. It also makes the wig wearer feel more confident in their appearance whenever they go out for work or take part in a party.
We can say that this hair piece toupee plays an important role in your life. Not only does it give extra coverage, but the hairpiece can also add more heights, lengths, and density to your hair.
You might also feel interested in:
A toupee is smaller than a normal wig so it can blend perfectly in with your existing hair. Depending on your needs, the hairstyle you want or the size of your head, you can choose a suitable unit for your own. Choose the right base size of toupee is also vital. There are 3 main base types of hair toupees, they are mono base, lace base, and skin base. Both supply a realistic appearance, are safe and comfortable to wear.
It's advisable to opt for a human hair piece
Human hair toupee is better than synthetic one because of its versatility and durability. With these preeminent features, the human hair is considered the best hair piece toupee in the market now and at Hairsystem in particular. It can be washed, dyed, bleached, and styled with heating tools on a low or medium setting as you desired.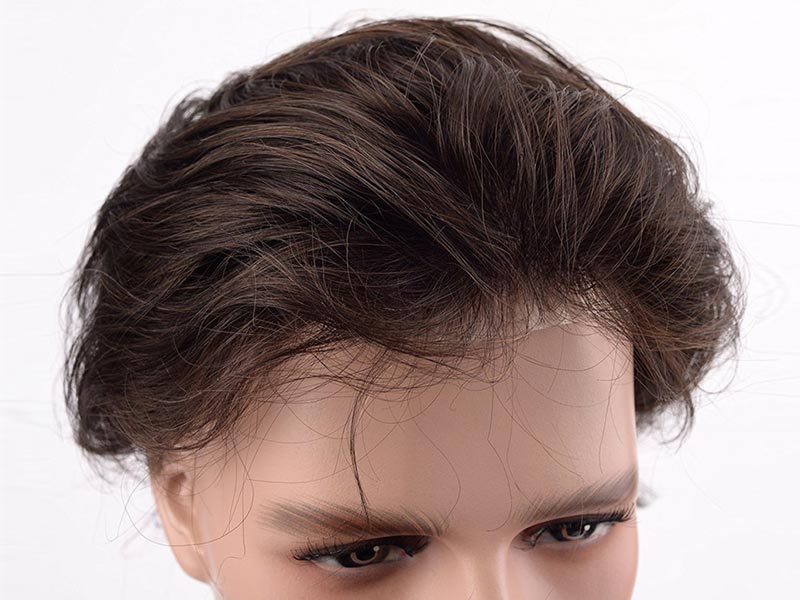 How To Remove A Toupee Hair Piece
Whatever kind the toupee is, from a mono hair toupee to a skin one, is usually attached by tape or adhesive, so the attachment process need your ingenuity. What about remove your hair piece? You should be more careful if not you can damage your real hair, even make your hair condition be worse.
Safely removing your toupee can be tricky. Most adhesives used for extended wear bonding are very strong and designed to keep your hair in the right place. For example, attach a toupee with tape can keep your hair firmly attached for up to 4-5 weeks. Therefore, we recommend using a hair remover in order to protect your own hair and the hairpiece.
Here is a simple process to use for removing your hair replacement system:
Step 1
Spray or dab the adhesive remover directly onto the area of your hair piece that is secured to your scalp. Or you can spray the remover on the cotton swabs and then use it to work on the tape areas. There are many different choices available but most brand will work just fine.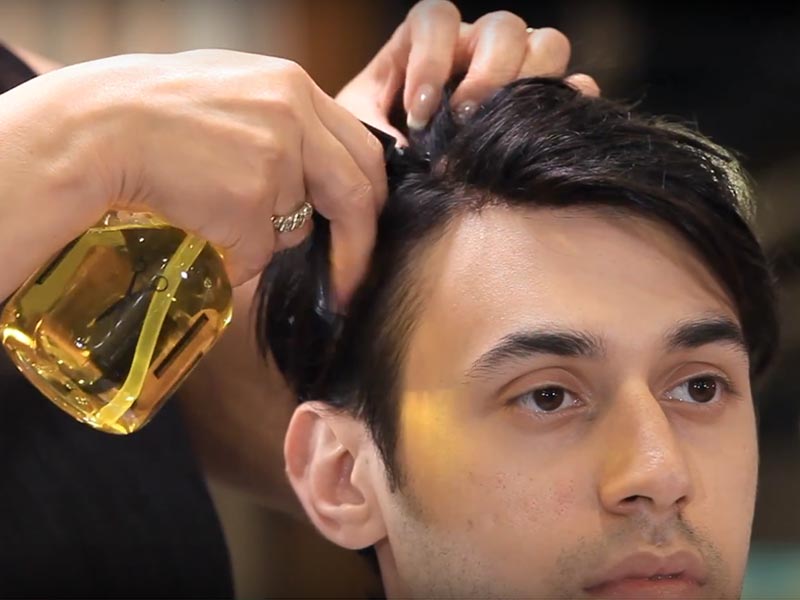 Step 2
Allow several minutes for the adhesive remover to soak in and begin breaking down the bond before continuing on to the next step.
Step 3
Now, the bond is broken down, you can take a toupee off. Gently pulling the unit off your head. You can remove your hair system from the back in order to help protect the front hairline. Use the tip of your fingers to locate the edges of your unit and then slowly follow it around to the very back.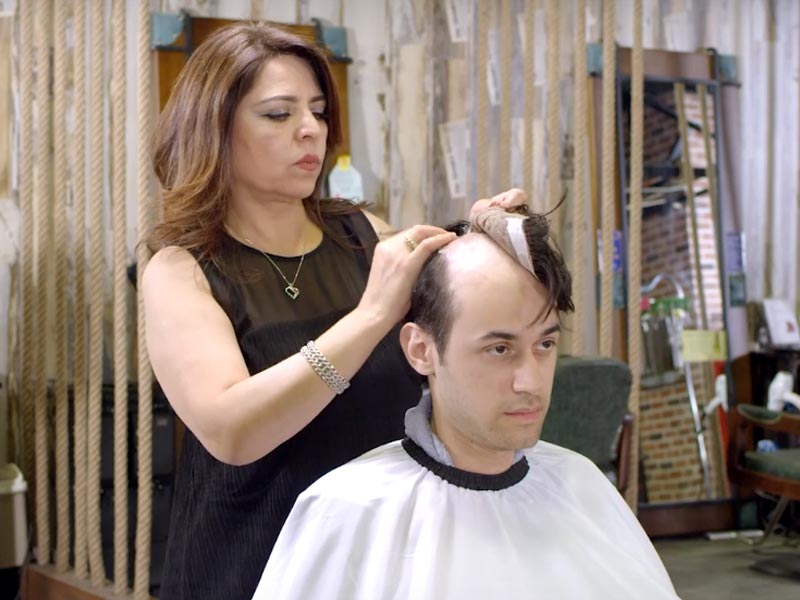 Can we remove mens toupee hair piece ourselves?
Of course, we can totally do it ourselves. If you are smart in removing a toupee, you can remove it at home with a good adhesive remover. Spend about 20 minutes, you can take the hair piece toupee off your real scalp without any damage.
View our collection of mens' hair systems:
In contrast, if you have no experience with human hair toupee, it's better to go to a trusted hair salon near you. The hairstylist will remove your hair piece and make sure that you can reuse it in the future.
When you should remove your toupee hair piece?
A toupee can't stay healthy on your real hair forever, so you should remove it every 4-5 weeks after installation. Even if you don't take care of your hair system carefully, the bond will be broken down quickly and the toupee will slip out. It's time to take your hair toupee off. Remove your hairpiece can help your real hair have break time and the scalp has room to breathe.
The Bottom Lines
Hairsystem hopes that after reading through this post, you will know more on how to remove your hair piece toupee in the right way. If you have any requires or want to find out more about human hair pieces, let's take look at our website.
Please keep following Hairsystem's blogs to update more solution for your hair problems. Let us know if you think it is useful.
Don't hesitate to contact us because it is always our pleasure to be of service.